USS Cabildo (LSD-16) Crewmember's Association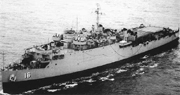 If you have Acrobat reader on our PC click here to display and print a membership application. (If you aren't sure it won't hurt to try it.)

If you do not have Acrobat Reader on your PC it's available free from Abode Systems. Just click on the following icon (www.getacro.jpg) If you have a version prior to 4.0 we recommend that you take the time to download a more recent version.


USS Cabildo (LSD-16) Association Website - Last Revision November 14, 2018
This page is maintained by Warren Gammeter <Webmaster@usscabildo.org>.